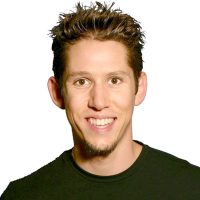 Hal Elrod
Author, The Miracle Morning
Hal Elrod is on a mission to elevate the consciousness of humanity, one morning at a time. As the author of one of the highest rated books in the world, The Miracle Morning — which has been translated into 27 languages, has over 4,000 five-star reviews and is practiced daily by over 500,000 people in more than 70 countries — he is doing exactly that.
What's incredible is that Hal actually died at age 20. His car was hit head-on by a drunk driver at 70 miles per hour, his heart stopped beating for 6 minutes, he broke 11 bones and woke up after being in a coma for 6 days to be told by his doctors that he would probably never walk again.
Well, not only did Hal walk, he ran a 52-mile ultra-marathon and went on to became a hall of fame business achiever, international keynote speaker, author, and grateful husband & father—all before he turned 30.
Then, in November of 2016, Hal nearly died again – his kidneys, lungs, and heart were failing, and he was diagnosed with a rare, and very aggressive form of leukemia.
After enduring the most difficult year of his life, battling cancer, Hal is now cancer free and furthering his mission as the host of the Achieve Your Goals podcast, creator of the Best Year Ever [Blueprint] LIVE event, and Executive Producer of The Miracle Morning MOVIE — a documentary that shows you the morning rituals of some of the world's most successful people.
Hal is grateful to be alive and living his mission alongside his wife and their two young children in Austin, TX.
He will share his unbelievable true story of coming back from the dead, but more importantly — he'll show you the fastest way to take your levels of success beyond where they have ever been before.
View All Past Speakers