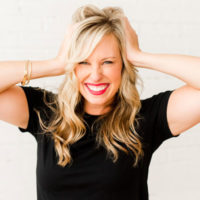 Kelly Cochran
Best-Selling Author & High Performance Coach
Affectionately known as "Loud Blonde" by friends and fans, Kelly Cochran is an unapologetic writer, speaker, and entrepreneur who passionately encourages people to listen to their instincts and speak their truth at the highest volume.
Honing her skills as an SEO expert, brand strategist, and project manager, Kelly spent 15 years in corporate America. Tired of hitting her head on the glass ceiling, she ditched the cubicle for good in 2017. She is now a professional motivator and high performance coach who empowers women to take massive action to achieve their greatest goals.
Kelly loves to work with driven, Type-A people who are tired of playing small and living life below their potential. Her Loud Life coaching program demonstrates how to break limiting beliefs, escape comfort zones, and move into inspired action.
Kelly's debut book, "LOUD: Silence Your Critics & Turn Up the Volume on Your Life", launched as an Amazon #1 Best Seller in September 2019. Kelly is also the recent recipient of the "Top 20 On the Rise" Award for Marketing, sponsored by Honeybook and the Rising Tide Society. Kelly currently resides in San Diego, California, where she lives with crazy two dogs, a cat, and a parrot who quotes inappropriate movie lines.
View All Past Speakers